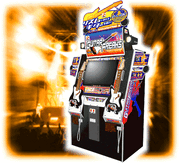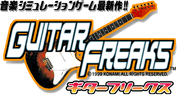 Release Date: February 1999
Slogan: Exciting guitar simulation game
GUITARFREAKS was the 4th BEMANI franchise, after DanceDanceRevolution. The arcade cabinet also ran on the same engine DDR did (BEMANI System 573).

Outside of BEMANI, over 360 machines were released under that engine, starting in 1978.[1]

Also known as "Gitafuri" and "GF."
On April Fools' Day, 1999, Vol. 3: Journey of Poetry of Tokimeki Memorial Drama Series from KONAMI mentioned a fake arcade game called "Guitar Mania." However, unlike GUITARFREAKS, strings were incorporated in its gameplay.
Beatmania spinoff.
External Links
Edit
References
Edit